This is the fourth year for Writing Wrongs literary journalism project at which college students immerse themselves in a specific societal issue and create a print book about the topic. By telling the stories of those directly involved, Writing Wrongs offers a different and often-ignored perspective that challenges stereotypes and prejudices.
Applications are open for Writing Wrongs 2018. There is some new information and links to Program Advisor and student Staff videos at the bottom.
The deadline for initial applications is May 1. Students can apply on the website, seekreporttruth.com. After the initial application, students must then submit their official application packet, which consists of materials like their resume and work samples, by June 1. Any student who will be enrolled in a college or university in Fall 2018 may apply. They may be an undergraduate or graduate student. The only other requirements for the program are that the student must be 18 and meet the minimum requirements of the concentration to which they're applying:  Writing/Editing, Print Design, Photography, Multimedia/Video, and Social Media Management.
The topics of the 2018 event are domestic violence and sexual assault. Writings Wrongs will take place over Labor Day weekend 2018 in Reading, PA. We have expanded this year to include the evening of August 31 as the start date, when we will conduct orientation. The program will conclude around noon on Monday, September 3.
A group of selected students will interview survivors of domestic abuse or sexual assault who have volunteered to participate in the program. Lodging and meals are provided for the entire program. Students will also hear from guest speakers such as attorneys and leaders of organizations that provide services to victims. Over the course of this weekend, they will write, photograph, digitally record, and design content that will be published digitally and in print. The social media manager will update Writing Wrongs Facebook, Twitter, and Instagram accounts throughout the weekend.
Through their participation, the students will be providing community service by producing a professional publication that highlights the issue and how if affects the community as well as the individuals themselves.
Writing Wrongs is an opportunity for students
to participate actively in community journalism outside of the school environment.
to address a prominent issue in our society.
to produce digital and print articles, photography, video clips and other items for their professional portfolios.
to add a unique community service experience on their resume.
Previous Programs
Students who have participated in previous Writing Wrongs programs represent 10 colleges and universities: Albright College, Cabrini University, Franklin & Marshall College, Haverford College, Kutztown University, La Salle University, Marywood University, Millersville University, Northampton Community College, Reading Area Community College, and Shippensburg University.
At the inaugural 2015 event, nine students from four different colleges spent Labor Day weekend with the residents of Opportunity House homeless shelter. They created a website and a print newspaper.
In 2016, seven students from six different colleges visited Easy Does It, Inc. drug/alcohol treatment facility and chronicled the residents' stories. They also created a website. Their book is titled "Addiction: Stories of Hope."
Last year's topic was immigration. Eleven students from seven schools interviewed, photographed, recorded, and wrote the stories of first- and second-generation immigrants in Reading and Lancaster counties who were willing to share their stories with us. Their book, "Untold, Unseen,Unheard: Perspectives on Immigration," is available on Amazon and other book distributors world-wide.
(Note: The websites produced in 2015 and 2016 have been merged into Writing Wrongs website and the content can be viewed there.)
All proceeds from book sales are used to fund Writing Wrongs journalism programs and related activities. Writing Wrongs has full nonprofit status through its fiscal sponsor, Humanitarian Social Innovations, and is partially funded this year through a grant from the Pennsylvania Partners in Arts and the Wyomissing Foundation.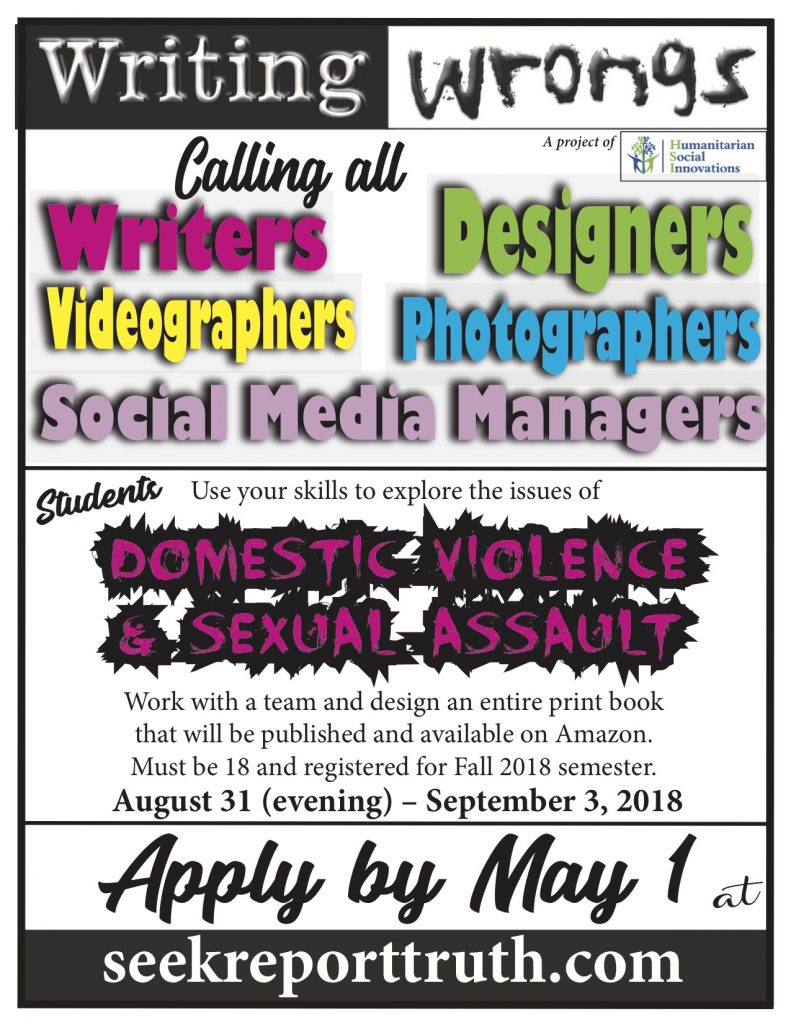 Call for Advisors
We are seeking interested members of college and university faculty to serve as mentors for the students in their respective areas.
Please note that there has been a modification in the time requirement for advisors. You may now volunteer for a minimum of 8 hours that can be done consecutively or split between Saturday, September 1 and Sunday, September 2. Visit the website for more information and to apply. You would still need to be present for the orientation Friday night if at all possible.
I've attached posters which can be printed and posted on bulletin boards, attached to emails, and shared on social media. I truly appreciate your assistance in sharing the information about this unique project with your students and like-minded colleagues, and please consider your own participation as a mentor to the students.
More Information
The videos below by a Writing Wrongs advisor and student staff provide some insight into the program.
Dorothy Hoerr, Program Advisor, WW2015, 2016, 2017
Jamison Barker, Staff Writer WW2017
Justin Sweitzer, Staff Writer WW2016, Print Designer (Alumni Contributor) WW2017
Please contact me with any questions or concerns. Thank you for your time.
Best,
Dawn
Dawn Heinbach, Founder & Program Manager