The Tuesday Film Series is exhilarated to be showing Anthology Film Archive's 35MM preservation print of Born in Flames. Thirty-five years after it was made, Lizzie Borden's stirring call to arms against racist and sexist governmental oppression remains as relevant as ever. Driven by political rage and born out of the landscape of artistic activism in the 1980s, Born in Flames is unnervingly prescient: its diverse cast depicts feminism as intersectional before the term was popularized, and women are everywhere – in front of and behind the camera. The downtown NYC scene that contributed to the self-described director's "scrappy" production (we'd call it ambitious and inspired) reads like a who's who of contemporary visionaries in the film and art world (Kathryn Bigelow, Gary Hill, Eric Bogosian, Peter Hutton, Chris Hegedus and the list goes on).

Just last month, Borden said: "One of the problematic aspects of Born in Flames is that it's still not reaching a lot of the women that I originally wanted it to reach, which is black women. They've mostly seen it on YouTube, or it's been pirated. I have more of an anarchist sense of [film exhibition], which drives most distributors crazy. I knew there was an audience who would only see it that way; they weren't going to rent a copy from the distributor or buy a DVD." With the film recently restored and getting a second life in movie theaters across the country, we hope that now is the time Borden's vision can reach more of the women she was speaking to, expanded to include all of 2018's politicized young adults, as well as the older generations that haven't yet encountered this daring film.
Tuesday, August 28 at 7pm
BORN IN FLAMES 
– 
PRESERVATION PRINT!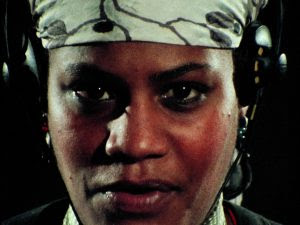 Lizzie Borden (U.S. 1983) 85 min. 35MM. With Honey, Adele Bertei, Jean Satterfield.
A landmark of early 1980's American independent cinema, Lizzie Borden's imaginative Born in Flames is an all-out attack on our patriarchal society and a call to arms for women everywhere – a call made two years before Margaret Atwood published The Handmaid's Tale. An instant classic of feminist cinema upon its premiere at the Berlin Film Festival, the film is set slightly in the future and uses documentary techniques alongside invented narratives to tell the story of a feminist insurgency against the incumbent "Socialist Democratic" government. Preserved by Anthology Film Archives with restoration funding from the Hollywood Foreign Press Association and The Film Foundation. Co-presented with Bucknell's Program in Women's & Gender Studies. 
"Borden's very sense of what constitutes a story, and how to realize it in images and sounds, is as radical as the social politics that she asserts… Leftism, Borden asserts, isn't enough; a political revolution, to have any deep effect, must be a revolution in ideas and attitudes, a cultural and an intimate revolution that itself involves the media and the arts — and of which Born in Flames itself is an example." — Richard Brody, The New Yorker